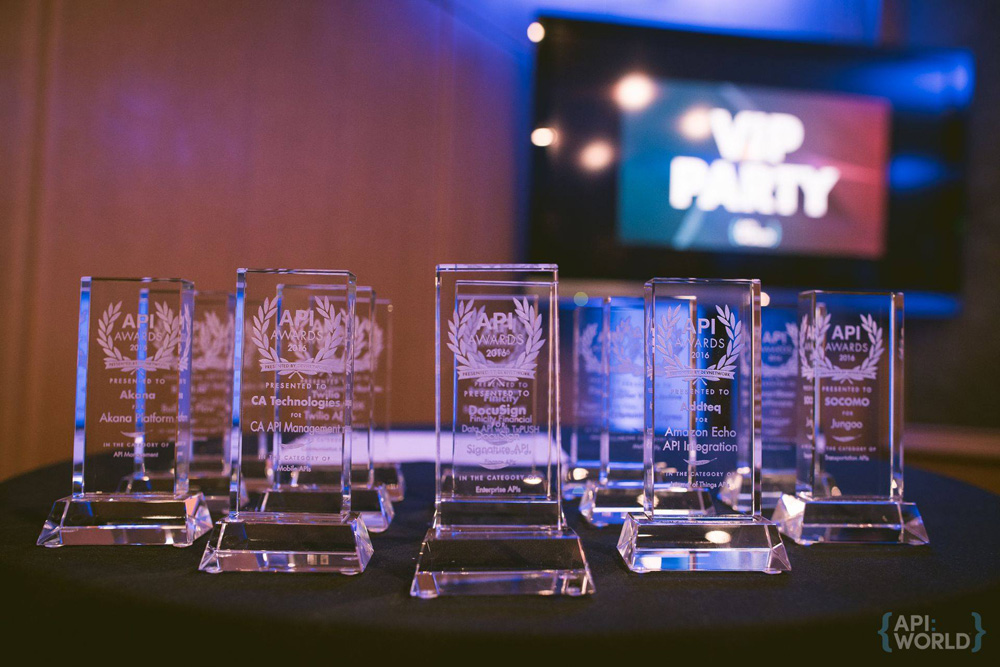 We're excited to announce our the below mentioned are the 2019 API Award Winners. The 2019 API Awards celebrate the technical innovation, adoption and reception in the API & Microservices industries and use by a global developer community. The 2019 API Awards will be presented at the 2019 API Awards Ceremony during the first day of API World 2019 (Oct 8-10, 2019, San Jose Convention Center), the world's largest API & Microservices conference & expo — the largest event for the API economy — in its 8th year, with over 3,500 attendees.
The 2019 API Awards received hundreds of nominations, and the Advisory Board to the API Awards selected our product/technology based on three criteria: (1) attracting notable attention and awareness in the API industry; (2) general regard and use by the developer & engineering community; and (3) being a leader in its sector for innovation.
Each of these companies is a shining example of the API technologies now empowering developers & engineers to build upon the backbone of the multi-trillion-dollar market for API-driven products and services. Today's cloud-based software and hardware increasingly runs on an open ecosystem of API-centric architecture, and each win here at the 2019 API Awards is evidence of their leading role in the growth of the API Economy," said Jonathan Pasky, Executive Producer & Co-Founder of DevNetwork, producer of API Word & the 2019 API Awards.
| Category | Product or Service | Company |
| --- | --- | --- |
| Innovator of the Year | Adam Leventhal, CEO, Transposit | Transposit |
| Best API Debut | Pusher Chatkit | Pusher |
| Best in API Infrastructure | CA Technologies - a Broadcom Company | CA Technologies - a Broadcom Company |
| Best in API Management | Kong Enterprise | Kong |
| Best in API Middleware | LoopBack | IBM |
| Best in API Security | CA Technologies - a Broadcom Company | CA Technologies - a Broadcom Company |
| Best in Automotive APIs | Smartcar API | Smartcar |
| Best in Business Software APIs | Sisense API | Sisense |
| Best in Communications APIs | RingCentral Developers | RingCentral |
| Best in Data APIs | ID+ Identity Verification Platform | Socure |
| Best in DevOps APIs | Edge Compute | StackPath |
| Best in Enterprise APIs | DocuSign eSignature API | DocuSign |
| Best in Finance APIs | FusionFabric.cloud | Finastra |
| Best in Health APIs | Sikka APIs | Sikka Software Corporation |
| Best in IoT APIs | TomTom Maps APIs | TomTom |
| Best in Media APIs | Ziggeo API | Ziggeo |
| Best in Microservices APIs | Kong Enterprise | Kong |
| Best in Microservices Infrastructure | Parasoft SOAtest | Parasoft |
| Best in Payment APIs | Transaction Risk API | Ekata |