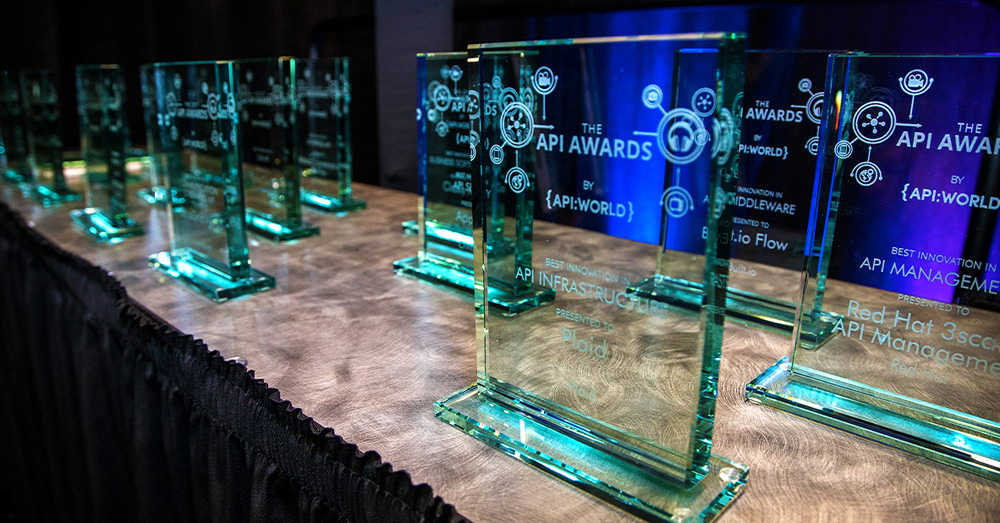 We're excited to announce the 2020 API Award Winners, the premier awards for the API industry. The 2020 API Awards celebrate the incredible technical innovation, adoption, and reception in the API & microservices industries and use by a global developer community. The 2020 API Awards will be presented at the 2020 API Awards Ceremony during the second day of API World 2020 Virtual (Oct 27-29, 2020), the world's largest API & microservices conference & expo — and the largest event for the API economy — in its 9th year, with over 4,000 attendees.
The 2020 API Awards received hundreds of nominations, and the Advisory Board to the API Awards have selected these 20 product/technology winners based on three criteria: (1) attracting notable attention and awareness in the API industry; (2) general regard and use by the developer & engineering community; and (3) being a leader in its sector for innovation.
"Each of these companies is helping empower developers & engineers to build upon the backbone of the multi-trillion-dollar market for API-driven products and services. Today's cloud-based SaaS software and hardware increasingly is powered by an open ecosystem of API-centric architecture, and each winner here of a 2020 API Award is evidence of their leading role in the growth of the API Economy," said Jonathan Pasky, Executive Producer & Co-Founder of DevNetwork, producer of API Word & the 2020 API Awards.
We congratulate the 2020 API Awards winners, and we look forward to the 2020 API Awards Ceremony on Wednesday, October 28, at 3:00pm (PT), where all winners will be virtually presented their awards, as part of the API World 2020 conference & expo. We encourage you (and your team) to register for API World 2020 Virtual today, as pass rates will increase up to 45% as the conference dates of October 27-29 get closer.